Former Cathay Pacific captain Paul McIntosh has been fundraising to support wildlife conservation in Africa since the 1980s. Now he is calling on travellers from Hong Kong and beyond to donate their extra miles to the protection of some of Africa's most endangered species, at Kenya's Lewa Wildlife Conservancy.
"There are 10 million Asia Miles members," he says. "And nobody spends all of their miles. You spend some of it on an upgrade and then you've got some left over, and these miles get wasted."
When McIntosh, 59, first visited Kenya on holiday in 1984, he was shocked by what he found there.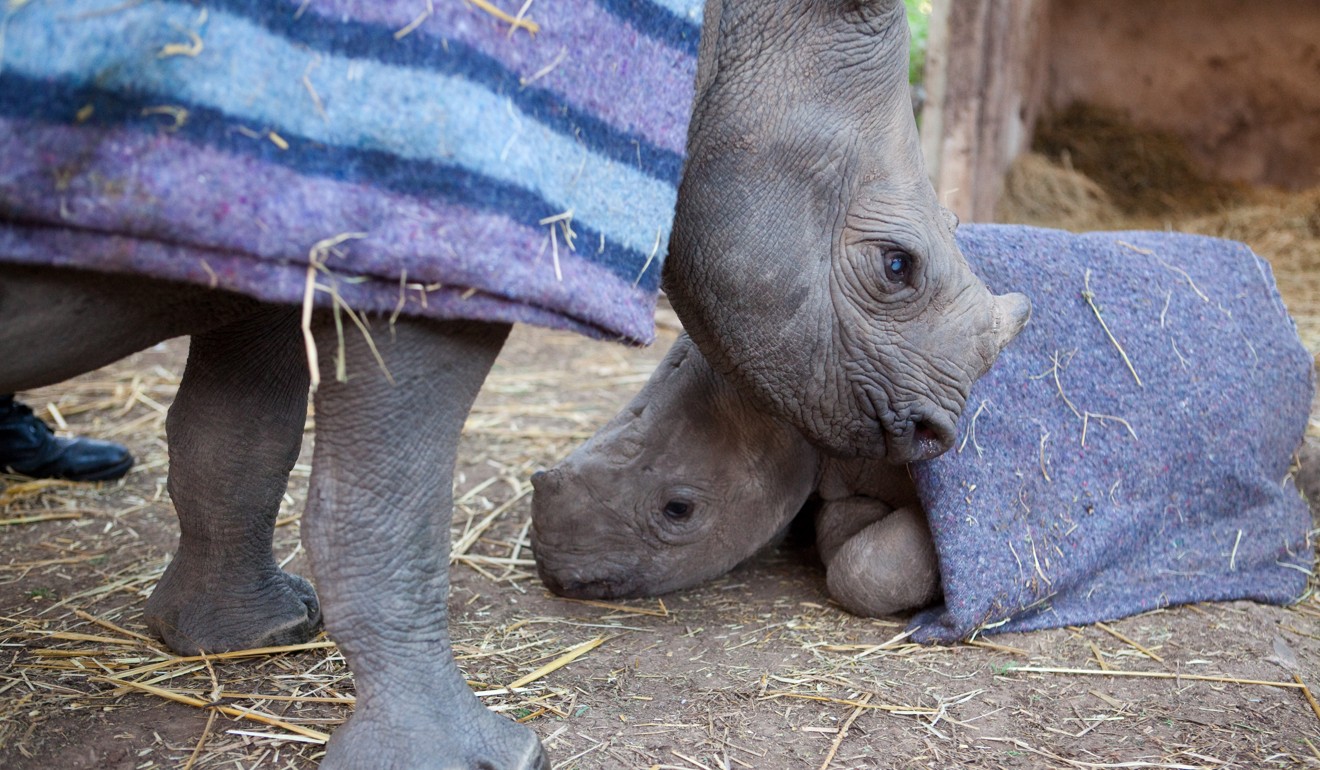 "There was a lot of poaching going on at the time," recalls the pilot, who was born in the UK and moved to Hong Kong in 1990 with the Royal Navy at Tamar. "In 1970 there were 20,000 rhinos in Kenya, by 1980 there were just 400. We'd be out on safari, and we'd hear gunshots at night."
Motivated to help, he began his own grass-roots fundraising efforts in the UK, and later in Hong Kong. He organised events, printed out booklets to take to local and international schools, gave presentations to educate children about wildlife.
"I was on my own," says McIntosh. "Sometimes with my kids and my wife. Saving animals wasn't really mainstream back then."
Kenya's wildlife warriors need our help
He returned to Kenya after a year in the navy, where he worked as a helicopter pilot, supporting anti- poaching efforts at Lewa Conservancy before joining Cathay Pacific in Hong Kong in 1994.
Lewa has gone from being a cattle ranch and a rhino sanctuary in the 1980s to a not-for-profit wildlife conservancy providing 93,000 acres of protected land to critically endangered species. Today it is a Unesco World Heritage Site, home to black rhino and elephants, as well as big cats and rare subspecies unique to Kenya, such as Grevy's zebra and reticulated giraffe.
It provides health care for some 40,000 people annually, sponsors 21 local schools in Kenya and is one of the largest employers in Kenya's eastern province. "But the more people you take on, the more money you need," says McIntosh. "It takes a huge financial commitment."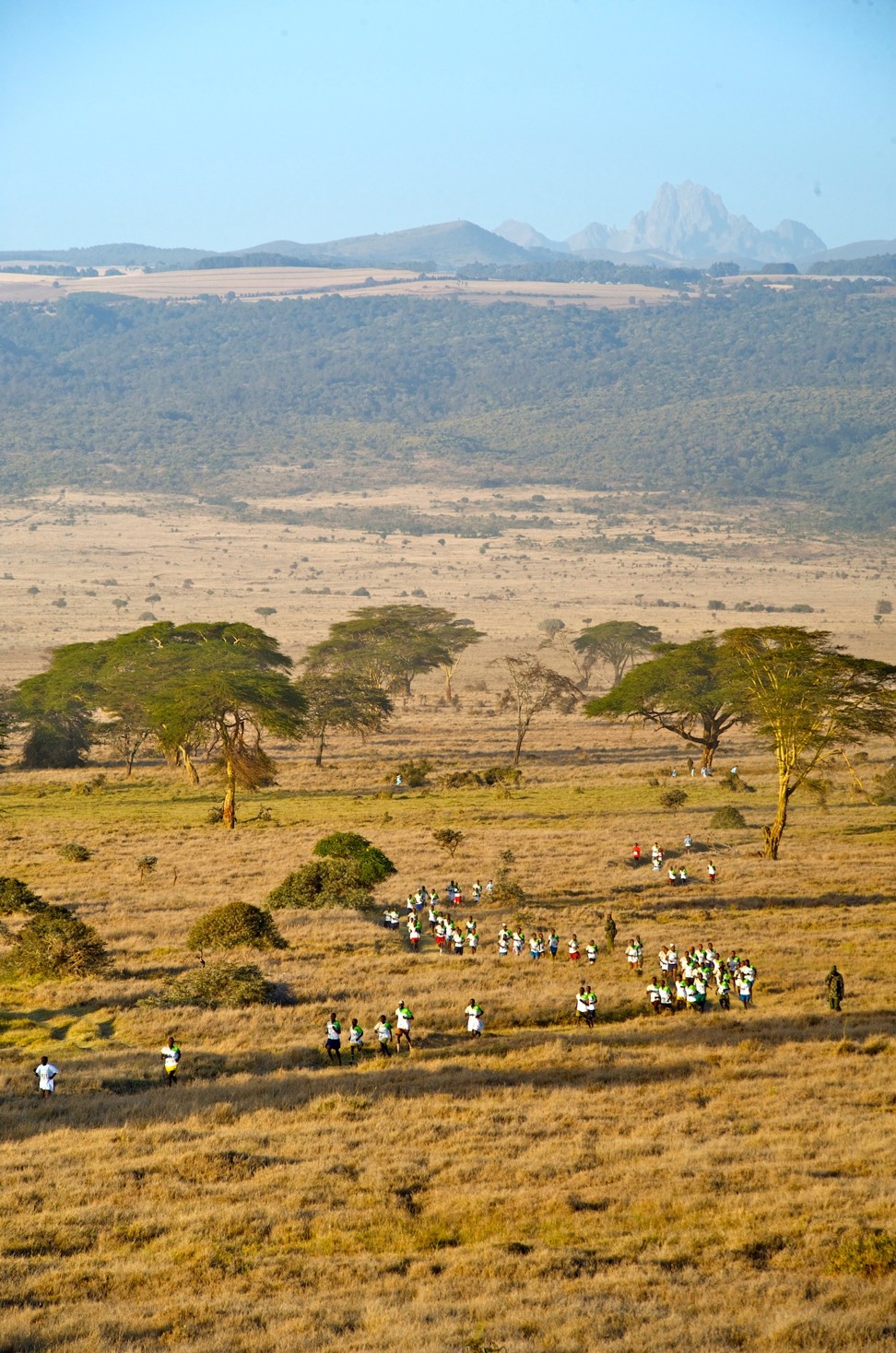 Four years ago, McIntosh realised it was time to target companies. He decided to make a film to showcase community-focused conservation.
The self-funded documentary, Running Wild, centres around the annual Lewa Safaricom marathon, in which athletes run alongside wild animals in the middle of the Kenyan bush. His film was featured on the Discovery and Animal Planet channels in 2016 and is currently being shown on all Cathay Pacific and Cathay Dragon flights.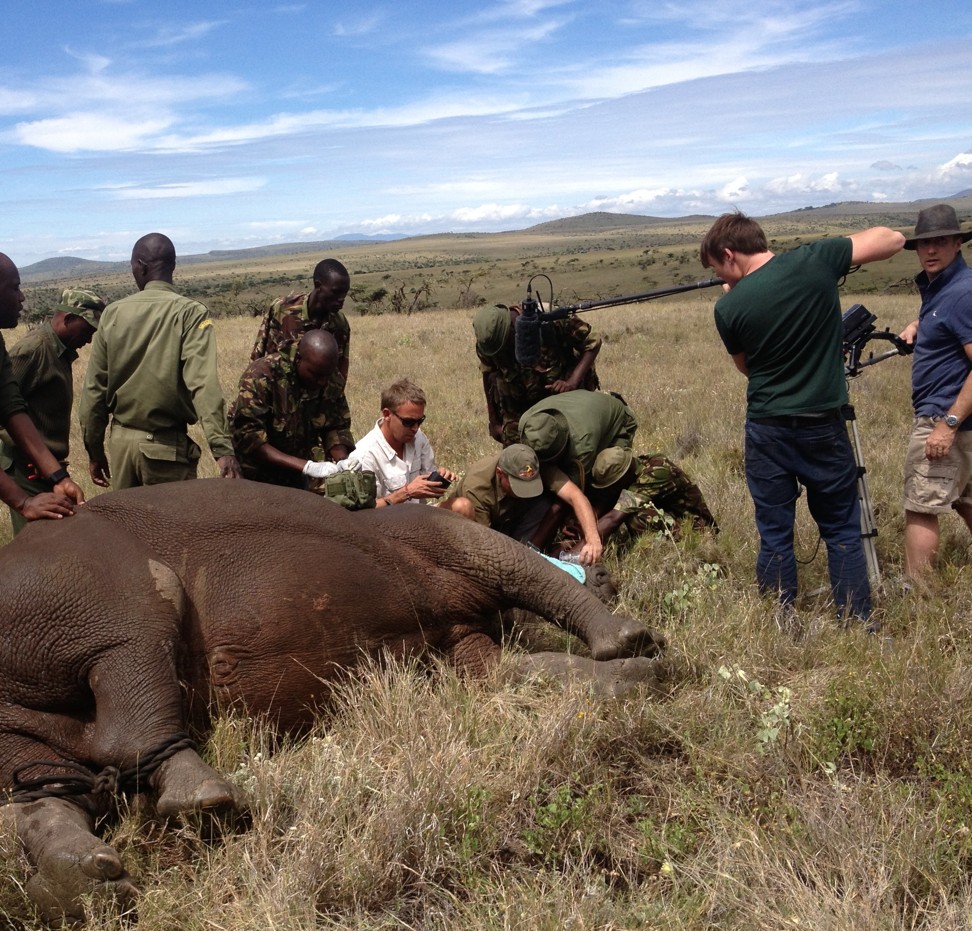 McIntosh will be presenting it in Hong Kong at the Royal Geographic Society on March 19, hoping to spread the word and encourage Asia Miles members to support Lewa's conservation efforts.
Donors have until March 31 to redeem their miles, and can select from three options: supporting the clinics providing health care for local communities; funding the wildlife security team's efforts; and paying for the care of orphaned baby rhinos at Lewa before they are reintegrated into the wild. Every dollar donated goes directly to Lewa.
Why Hong Kong should say no to ivory chopsticks: African park warden shot trying to stop elephant poaching appeals to city
"Supporting the protection of wildlife in sanctuaries such as Lewa is the best insurance that our grandchildren will witness the wild animals and wild places that our generation have," says Ian Craig, co-founder of Lewa and director of conservation for Kenya-based community conservancy membership organisation Northern Rangelands Trust. "Wildlife is under threat from our fast-developing world and Lewa is securing a safe space for it."
"Yes, we do need legislation, and we do need to educate people, and fight corruption," says McIntosh. "But all of that is secondary to conserving what we've got. Otherwise there will be nothing left to conserve.
"Legislation is too slow, it doesn't have an impact," he adds. "Right now we need to save the animals at source."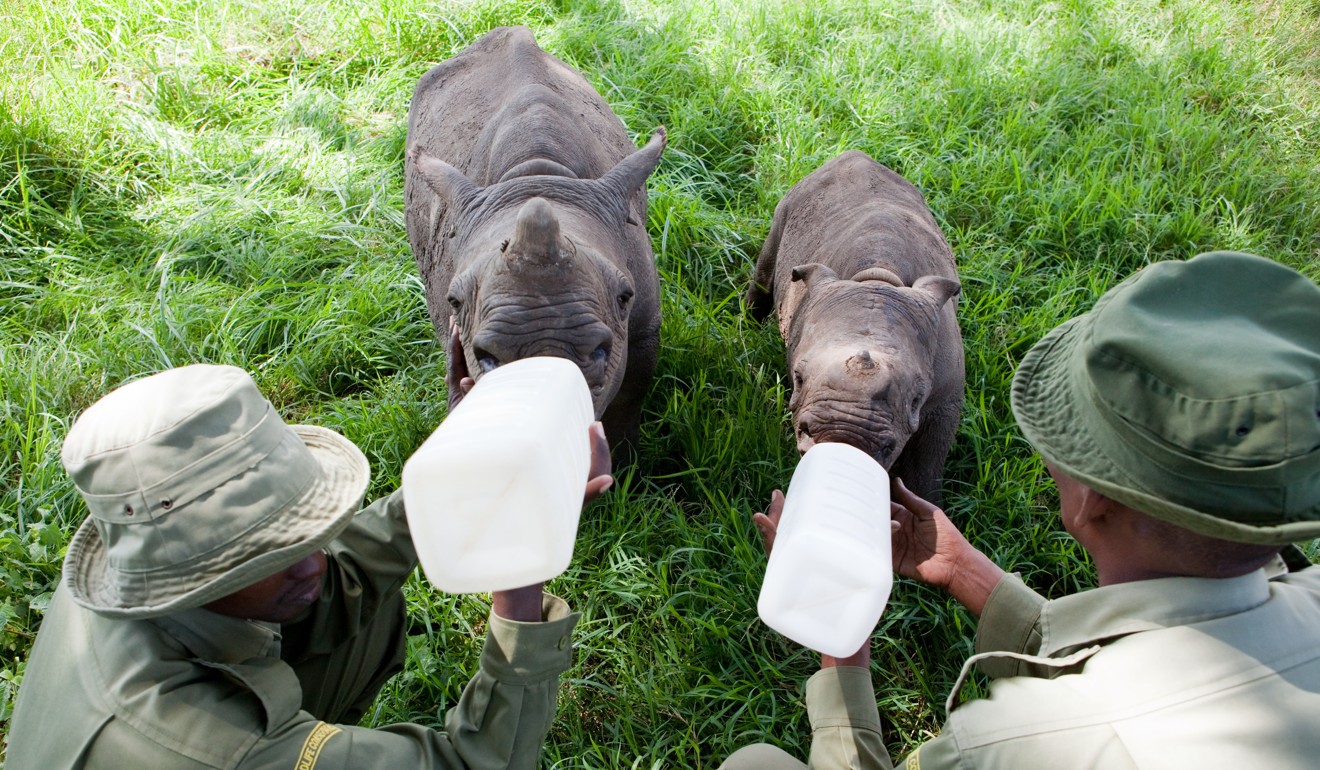 Running Wild uses the marathon as a metaphor for how Lewa's investment in the local community is the key to protecting the wildlife that share their land.
The race proved the most challenging part to film, as there were 1,400 runners, 3,000 spectators and some 1,000 security personnel present to ensure both participants and the wildlife were safe.
"It's like any race – you only get one shot at the action," says McIntosh. "So we put up an aeroplane to spot around the track, and all the wildlife security teams were out there, making sure we knew where everything was.
"As a last resort we had the helicopter on standby so if a buffalo, an elephant or some pussy cats got a bit too close we could go and push them away."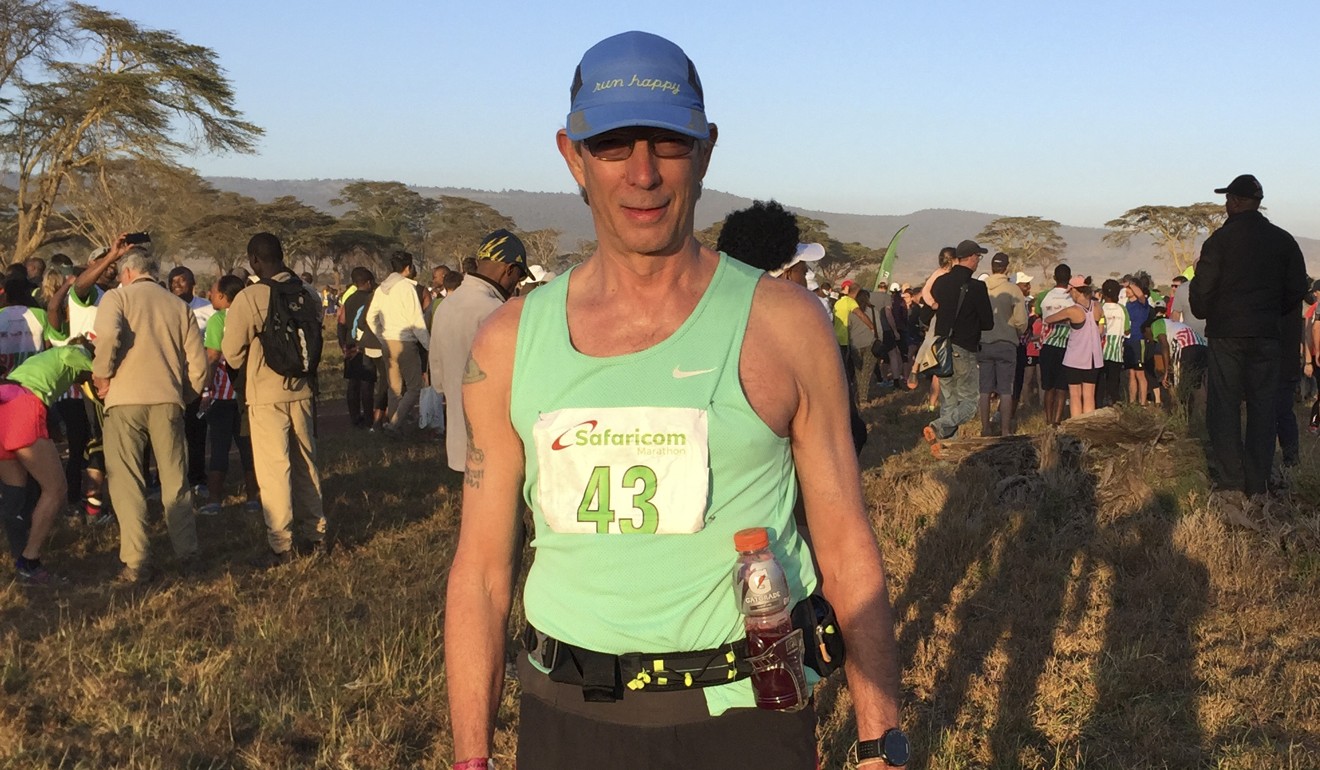 Participants fly in from around the world, including some regular competitors from Hong Kong. Among them is Mike Migdoll, 63, a Kenyan-born and -raised Cathay Pacific captain who ran his fourth Safaricom marathon last year.
"It is the only marathon to be held in a wildlife conservancy," says Migdoll. "Although the organisers go to great lengths to ensure the runners' safety with respect to the wildlife, one can often see animals in the not too far distance."
Champion of the rhino's cause
The terrain – uphill dirt tracks and bush roads – and high altitude at some 5,500ft (1,700 metres) above sea level make it a tough, but exhilarating race, says Migdoll. Temperatures also fluctuate widely, from 12 degrees Celsius in the morning to 30 degrees in the sun.
"It has frequently been rated as one of the top 10 marathons to run," says Migdoll, who raised US$7,665 for charity last year, and hopes to do even better when he runs again this June 30.
Runners have a minimum fundraising target of £1,500 (US$2,060). Proceeds are shared between Lewa and non-profit organisation Tusk Trust.
"The only people we don't charge is the local community," says McIntosh, adding that there is a children's race too.
"Kenya is the home of marathon running, so there are some pretty good local athletes, and they come along and run."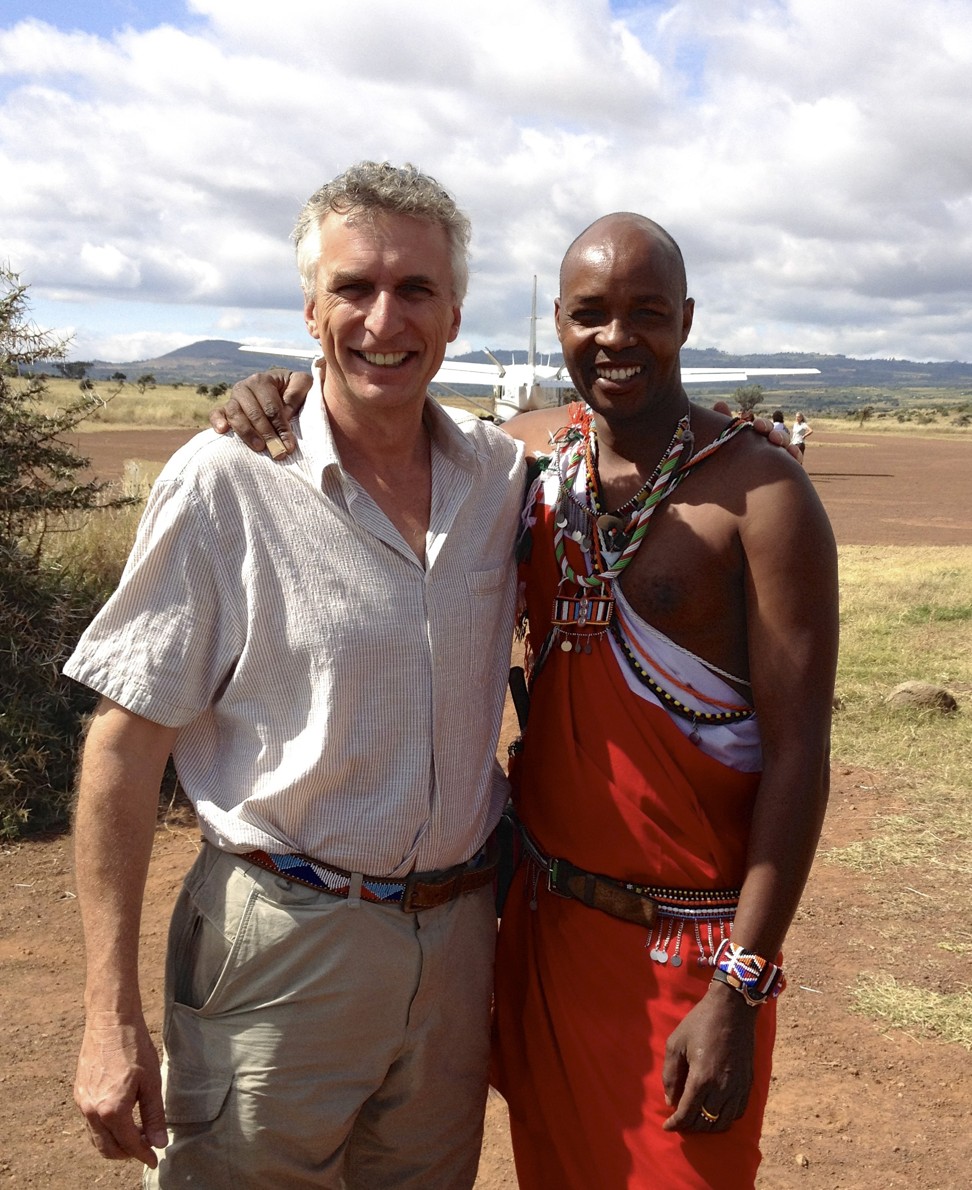 Ten years ago, McIntosh would never have got corporate support for an anti-wildlife-crime initiative like the Asia Miles campaign, he says. "Everyone was worried about upsetting China. But now, China's in the vanguard, so the political and business climate has changed."
China's January 1 ban on the ivory trade, and Hong Kong's January 31 vote to phase it out by 2021 has had an immediate impact on ivory sales, he says, adding that what is needed now is a global ban on trade in wildlife products such as ivory and rhino horn.
'A robbery made to look like a hit'? His work persuaded China to ban ivory trading – now he has been found stabbed to death at home in Kenya
"Organised crime only operates where it can make a profit. If you have a legal trade, the illegal trade can flourish. So banning the trade makes it much harder for the illegal trade to infiltrate it."
"Hong Kong's decision to ban the sale of ivory is both timely and wise," says Craig. "The days of trading in animal parts in the name of art must be gone as the world recognises the dreadful destruction of free living animals it causes."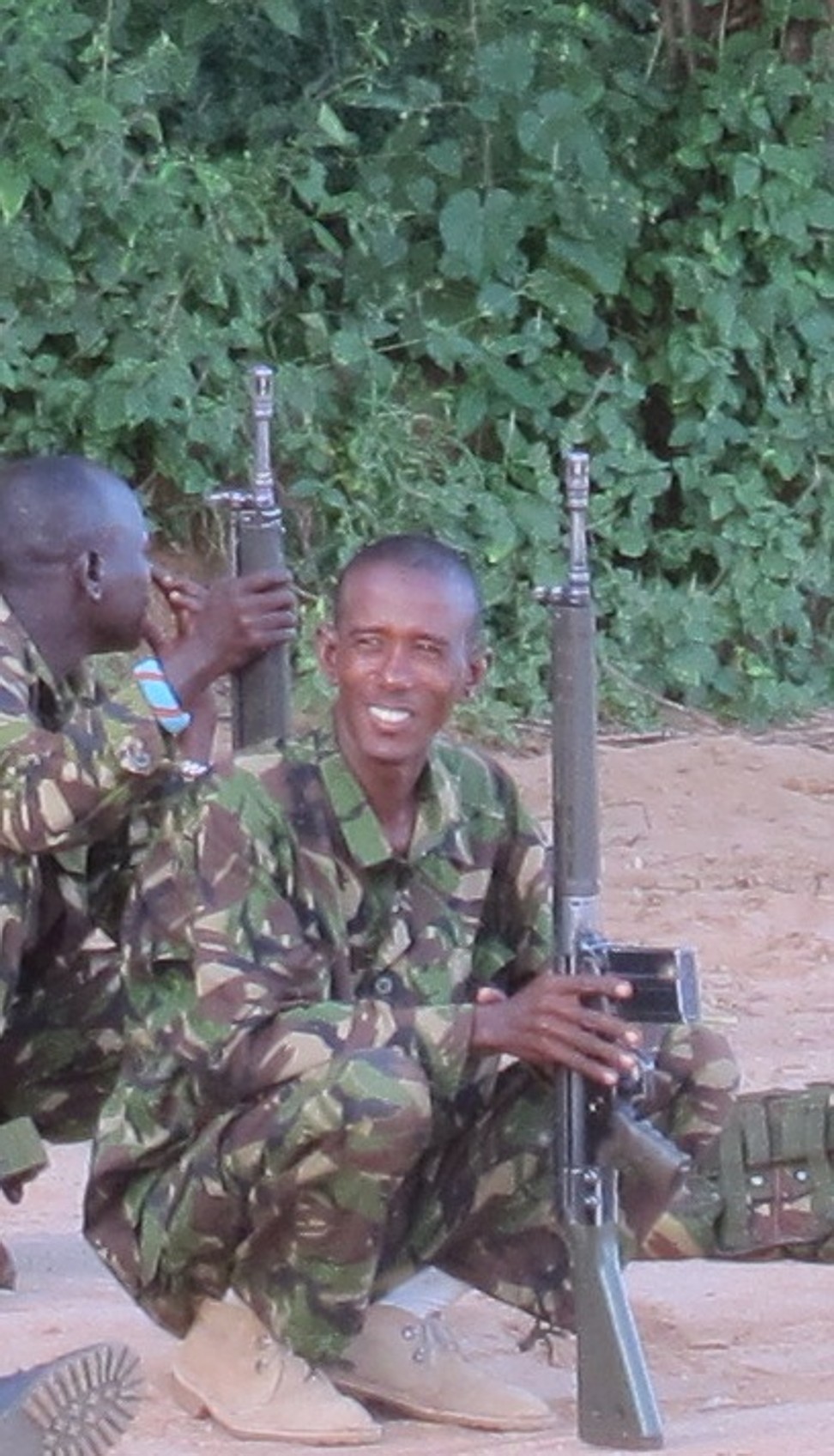 The Running Wild documentary is dedicated to a member of the Northern Rangeland Trust's security team, Ltadamwa Lardagos, who was shot dead in a security incident during filming.
"We've lost two more men since," says McIntosh. "People are dying trying to protect wildlife. And wildlife is dying in huge numbers."
East Africa has seen an almost 50 per cent reduction in its elephant population in the past decade, due to a surge in poaching, according to a 2017 Convention on International Trade in Endangered Species (CITES) report.
"In my time, being involved in conservation, we've already lost the western black rhino to extinction. The northern white rhino is as good as extinct," says McIntosh. "All it takes is for you to drop your guard for one moment, and an entire species is gone.
"So the urgent action is to support conservation in the field, where these last few animals are living."